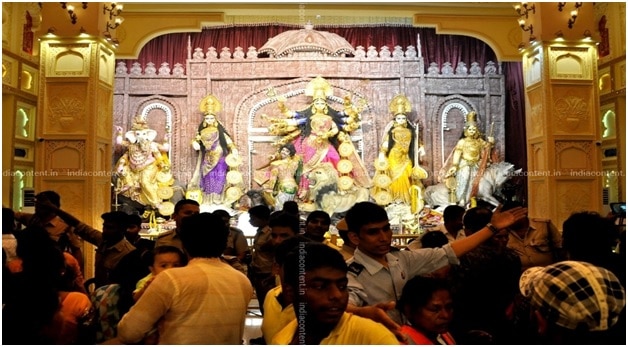 On the Shukla paksha in the Indian month of Ashwina, Maha Navami is celebrated on the ninth day of the Durga Puja Celebration. As per the English calendar, Durga Puja falls during the month of September or October.
As per Hindu mythology, it is said that Devi Durga fought with Mahishasur (the king of demons) and the battle lasted for complete nine days. The ninth day was the final day before the Goddess won over the evil power with her power and wisdom. So Maha Navami is also considered as the eve of victory over evil power and the next day is called Vijaya Dashmi.
On Maha Navmi, Goddess Durga is worshipped as Goddess Saraswati—the great deity of knowledge and wisdom. In some parts of South, Ayudha Puja is arranged and along with the idol of Goddess, other tools, machinery of all sorts, musical instruments, books, equipment of all kinds including automobiles and are well decorated and worshipped. This day is considered of great importance before starting any new work on Vijaya Dashami.
It is also witnessed that children start going to school on this very day in many places in Southern India.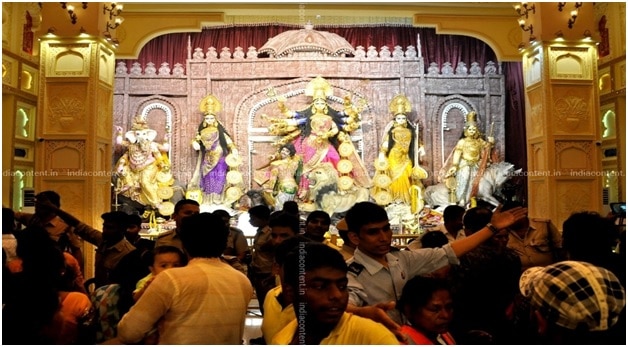 There is also a very popular ritual on Durga Puja, people in North and East India, Kanya Pujan is also known as Kanak puja is done on this day. According to this ritual of kanjak puja, nine young girls are worshipped considering nine forms of Goddess Durga. Their feet are washed well with clean water, kumkum or sandalwood paste is applied on their forehead; they are offered new clothes to wear, we tie molli (sacred thread) on their wrists and then they are worshipped with mantras and incense sticks. Special food is cooked for them along with sweets and they are offered gifts as tokens of love and respect by their devotees.
Whereas in eastern India, Maha Navami is actually the third day of Durga Puja. This starts with a holy bath following when Shodhasopachar puja is done. On this day, Devi Durga is worshipped as the Goddess who killed Mahishasur (the buffalo demon) and named as Mahishasuramardini. It is also believed that on this day the buffalo demon was finally annihilated.
A special ritual of Navami havan is also done at the end of Navami Puja.
And thus it is said that puja done on this day is equivalent to puja done on all the nine days of the Maha Navratri festival. At some places, an ancient tradition of Navami Bali or sacrifice of animals (goat or buffalo) is still practiced, while in some areas of Andhra Pradesh, the Batthukamma festival is celebrated on Maha Navmi. The name is inspired by a beautifully scented flower. This puja is performed by Hindu women and the flowers are typically arranged in a seven-layer forming a conical shape and then it is offered to Goddess Gauri who is a form of Goddess Durga. This festival celebrates the glory, bravery, and beauty of womanhood. Women wear new clothes and adorn themselves with jewelry on this day.
Navami Shubh Muhurat:
On Maha Navami
| | |
| --- | --- |
| Sunrise at: | October 06, 2019 6:23 AM |
| Sunset at: | October 06, 2019 6:06 PM |
| Navami Tithi Starts at: | October 06, 2019 10:54 AM |
| Navami Tithi Ends at: | October 07, 2019 12:38 PM |
| Sandhi Puja Muhurta at: | October 07, 12:14 PM – October 07, 1:02 PM |
Navami Puja Vidhi Vidhan:
Mother Siddhidatri who fulfills also our wishes is worshiped on the ninth or the last day of Navratri. This day is also known as Maha Navami. It is believed that this form of Maa Durga gives us all kinds of siddhis and knowledge. It is also believed that worshiping Siddhidatri gives all kinds of knowledge easily. Also, those who worship them and have faith in her never have any trouble. On this day of Navami, Kanya Pujan or kanjak is considered to be the welfare and auspicious ritual. This time Maha Navami is on 7 October while on the next day i.e. on 8th October, the festival of good over evil (good over bad) Vijayadashmi or Dussehra will be celebrated.
According to our mythologies, it is believed that Lord Shiva had attained many siddhis only by the blessings of Goddess Siddhidatri. By the grace of the Goddess, it has happened that half of Shiva's body was that of the goddess. And, for this reason, Shiva became famous by the name 'Ardhanarishwar'. It is said in Markandeya Puran that these eight siddhis are "Anima, Laghima, Attainment, Prakamya, Mahima, Ishita and Vashitva". It is also believed that if the devotees worship mother Siddhidatri with true heart and soul then all these accomplishments can be attained.
We believe that Mother Siddhidatri is very gentle and attractive. She has four arms. In one hand the mother is holding a chakra, in the second hand, she is holding a mace, lotus flower in third hand and a conch in fourth hand. Goddess Siddhidatri sits on Leo.
Maa Sidhdhidatri's favourite colour are red and yellow and she is very fond of kheer, coconut, panchamrit and naivedya.
Navami Wishes and Quotes
Very warm greetings on this auspicious occasion. Happy Navami!
May this day bring you loads and loads of success and happiness. Happy Navami.
Let's celebrate our ancient tradition of oneness, brotherhood, bravery and shun violence on this special occasion of Navami.
May this day bring happiness to you and fill your life with immense joy and prosperity. Warm wishes to you and your family on Navami!
With vibrant gleam of diyas and the echo of the chants, May happiness and contentment fill your entire life. Wishing you a Happy Navami!
Warm greetings on the auspicious occasion of Navami. Happy Navami to you and your family!
May Ma Durga give you immense power and strength to shun violence. Happy Navmi!
Mat goddess steps into your home, vanish all your troubles completely! Best wishes to you and your family on Navami.
Ma Durga do not give us a boon, Just give us a little love and may all this life live in your feet, we seek this blessing for our life. Best wishes to everyone on Navami.
Maha Navami Images on India Content
If you are looking for Maha Navami pics then you must check the India Content website. You will find some good quality images on the website. The pictures are available in three sizes-small, medium and large.
You can purchase various other content images from the
https://www.indiacontent.in