Heavy rainfall has been predicted by the Indian Meteorological Department in the districts of Patna, Vaishali, and Khagaria. Due to the incessant rainfall in almost a dozen districts of Bihar mainly, capital Patna, Kaimur and Bhagalpur are worst affected. It is also told that the condition in Patna is particularly bad as many areas submerged under 4-6 feet of water.
Such flood was not witnessed by Patna since 1975, said both, the people and the authorities. Many other badly affected districts are Munger, Muzaffarpur, Araria, Banka, and Samastipur.
Lately, the death toll has been mounted to 77 in the rain and flood-related incidents. The commoners have blamed the "uninspiring" approach by the Nitish Kumar government over the years for such conditions in Bihar, which was lately hit by a severe drought which followed a devastating flood in many districts.
It is also told that an orange alert has been issued by the government for various regions of Bihar including Patna for October 3rd and 4th as heavy rainfall is expected during these days. May parts of the state were left in a dire condition with the death toll mounting 77 as the relentless rains and deluge took place between September 27 and 30
Day and night the restoration works have been on its verge and government relief workers have given their heart and soul to pump the water out of the submerged localities of Bihar. The Indian Meteorological Department (IMD) has forecasted heavy rainfall in Vaishali, Patna and Khagaria districts. Ten thousand people from the state capital were rescued by the National Disaster Response Force (NDRF).
In order to assist people, five teams were deployed in Patna's Rajendra Nagar and Kankarbagh areas. The Indian Air Force has also been at help as they are airdropping relief material to the flood-affected areas.
Rescue and rehabilitation work was being supervised by our hon'ble chief minister Nitish Kumar as he waded through water-logged streets, in his pajamas folded up to knees. "All the best possible efforts are being made. People are requested to bear patience. Some of the societies are in low lying areas like Rajendra Nagar and Kankar Bagh they are badly affected and are vulnerable to waterlogging.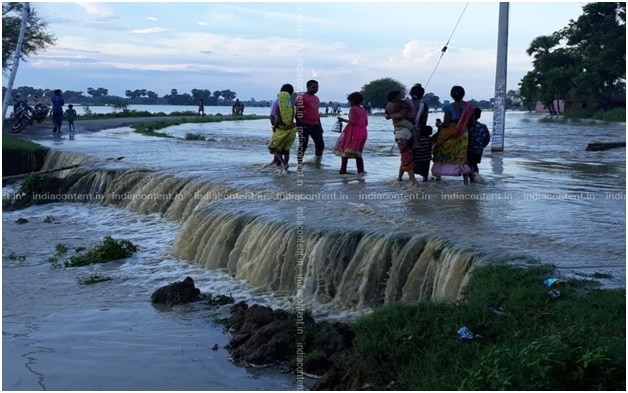 Flood situation in Bihar
The flood situation has grown horrendous as worsened in Bihar as heavy rains continue to lash the upper coastal area of Nepal and North-Eastern Bihar. It is reported that around 4.7 million people are badly affected in 68 blocks of 12 districts and at the same time around 40% have been displaced. The districts that are badly affected are Sitamarhi, Madhubani, Champaran, Araria, Purnia, Darbhanga, and Supaul. Many relief camps and community kitchens have been set up by the Government has set up relief camps and community kitchens; however, the response is not adequate. It's not updated that whether they are able to cater to the families who are stranded in their houses in affected villages.
Mahadalits, Dalit and excluded communities are the ones who are badly affected. Also, people from agricultural labourers are equally affected.
Bihar Flood Helplines:
Numbers-that can be reached for help :
State emergency centre no.: 0612 – 2293204/05/10
Araria district control room no.: 06453-222309
Kishanganj district control room no.: 06456-224152
Supaul district control room no.: 06473-224005
Madhubani district control room no.: 06276-222576
East Champaran district control room no.: 06252-242418
Sheohar district control room no.: 06222-257060/61
Sitamarhi district control room no.: 06226-25031
For Madhubani district:
District Magistrate no.: 9473191317
Additional District Magistrate no.: 9473191318
Sub-divisional magistrate Sadar no.: 9473191319
Sub-divisional magistrate Benipur no.: 9473191320
Sub-divisional magistrate Biraul no.: 9473191321
Official in-charge, district disaster management no.: 8544412322
District control room no.: 06272-240600
District disaster-management control room no.: 06272-245821
For Muzaffarpur district:
District Magistrate no.: 9473191283
Senior Superintendent of Police no.: 9431822982
DDC no.: 9413818356
Additional District Magistrate no.: 9473191284
Additional District Magistrate no. – Relief : 9471484682
City Superintendent of Police no. – 9473191765
SDM East no.: 9473191285
SDM West no.: 9473191286
Bihar Flood Affected areas
13 Affected districts of Bihar are: The Bihar floods badly devastated 13 districts of North Bihar, India, causing many deaths. It was declared that 1269 panchayats that were covered through 92 blocks of 13 districts of Northern Bihar (settlement councils) were majorly affected in the flood. The unprecedented rainfall that battered Bihar in the last three days of September has cost 77 lives and that was a major jump from the last known figure of 55- reported the state govt. today. It was also reported that over ten thousand people from Bihar's capital city Patna were rescued to a safe place by The National Disaster Response Force (NDRF) which has been continuously battling with floods for the last few days declared by NDRF Commandant Vijay Sinha on Wednesday. The affected districts are Araria, Kishanganj, Madhubani, East Champaran, Sitamarhi, Sheohar, Supaul, Darbhanga, Muzaffarpur, Saharsa, Katihar, West Champaran.
District wise human lives lost.
As per the recent report by Bihar Disaster Management Department no death was reported from West Champaran and Katihar.
| | |
| --- | --- |
| Districts | Death Toll |
| Sitamarhi | 37 |
| Madhubani | 30 |
| Darbhanga | 14 |
| Araria | 12 |
| Sheohar | 10 |
| Purnia | 9 |
| Kishanganj | 7 |
| Supaul | 4 |
| Muzaffarpur | 4 |
| East Champaran | 2 |
| Saharsa | 1 |
| | |
Bihar's Flood Images on India Content
If you are looking for Bihar Flood pics then you must check the India Content website. You will find a good stock of images on the website. The pictures are available in three sizes-small, medium and large.
You can purchase various other content images from the
https://www.indiacontent.in