Durga Ashtami or Maha Ashtami is considered to be one of the most auspicious days of 9 days long Durga Puja festival. On this holy occasion, many people across the country undertake fasts. Durga Ashtami is also known as Astra Puja as on this day weapons of the Deity are worshipped and pray. People use arms or perform martial arts on this day and for this reason, this day is also called vira Ashtami. This eighth day of Durga puja is also known as .the Maha Ashtami or Durga Ashtami. As it falls on bright lunar fortnight Ashtami tithi of Aswina month so this day becomes extremely auspicious to all Hindus
According to Hindu mythology, it is believed that on this day Goddess Chamunda appeared from the forehead of Mother Durga and annihilated the demons Chand, Munda, and Rakhtbij. These were the demons associated with Mahishasur. During the Durga Puja or especially on Mahashtami the Ashta Nayikas or matrikas (the eight ferocious form of Goddess Durga) and 64 Yoginis are worshiped. The Ashta Nayikas, who is also known as Eight Shaktis, are interpreted differently in different regions of India. But ultimately, all the eight goddesses are incarnations of Goddess Shakti. In fact, they are the same powerful and vibrant divine Feminine, representing different energies.
The Ashta Nayikas (also known as matrikas) worshiped during Durga Puja are Brahmani, Vaishnavi,Maheswari, Varahi, Narasinghi, Indrani, Kaumari and Chamunda.
A very popular tradition is associated with Durga Ashtami which is in North India, is to honor and feed the kanjaks at home. A large or small group of young, unmarried girls (maybe five, seven or eleven) are invited into the home to honor and feed them. The tradition of feeding the kanjaks is based on the belief that each kanjak represents Goddess Durga on Earth and by honoring them at home we seek their blessings. The group of girls are welcomed into the home by washing their feet (a popular ceremonial in India to welcome someone), welcoming them into the home and putting red sacred colour also known as Alta on their feet. The girls in the form of Goddess are fed with food and sweets and are given gifts to honour and seek their blessings.
Durgashtami is always celebrated on the eighth day of the Navratri celebration. This time Ashtami is being celebrated today on 06 October. The eighth power of Maa Durga is named Mahagauri. On the eighth day of Navratri, there is a law of worship of Mahagauri.
Those who keep fast for the entire nine days during Navratri are considered to be complete only after the worship of the girl. But do you know there is a special time for worshiping the girl, which is followed by special fruit? According to religious beliefs, those who do not worship the girl in the right time, the fruit of their fast decreases. In such a situation, let us know in what auspicious way to worship the girl in this auspicious time during Navratri to get the blessings of the mother.
Durga Ashtami Shubh Muhurat, Date Time
The auspicious Muhurat, Date and Time for Durga Ashtami Puja is – On 6th October 2019, there are two auspicious slots to perform puja:
1st from 09:00 am to 15:00pm
2nd 05:58 PM to 9:30 PM Now as we have already discussed earlier the rituals of Knajak on Durga Ashtami, let us know in detail how we can start with the day for Kanjak on Durga Ashtami.
Wake up early in the morning to worship Kanya on Ashtami, In the morning have the first bath. After taking bath first of all worship Lord Ganesha and Mahagauri.
Now to worship Kanya, Call 9 girls or 11 girls and a child at home from two years to 10 years. It is said that a boy sitting among girls is considered to be the form of Batuk Bhairava or even considered as Langur. In mythology, it is said that Lord Shiva has deployed Batuk Bhairav ​​to serve Mother in every Shakti Peetha. This is the reason that if Bhairava is not seen or we do not visit the temple of Bhairava after seeing the mother in the back of power, then the philosophy or Journey to Vaishno Devi is considered incomplete.
So, now after inviting the girls to the house, wash their feet with clear water and give them a seat.
After washing the feet of the girls wipe them with a clean cloth and apply Molli (sacred thread) on their hands by applying Roli or Chandan along with Akshat on their foreheads.
Afterward, perform aarti by showing lamps or Diyas to the girls and children and offer them as much power as possible. Usually, kanjaks are offered puri, gram, and pudding or even sweets on the day of Kanya worship.
Give Kanjaks gifts and seek their blessings by touching their feet and giving a happy farewell and pray to mother Durga to come again.
Durga Ashtami Puja Vidhi Vidhan
As Mahagauri, the eighth form of Durga, is worshiped on the eighth day of Maha Navratri festival. On the day of Ashtami, It is believed that all kinds of sins and sufferings of devotees are removed by worshiping Maha Durga on Ashtami, Young girls are served food. Today we will get to know how to worship on this day.
We begin our auspicious day by getting up and taking bath in the morning on Maha Ashtami, Decorate the idol of Goddess Durga with beautiful clothes and Mother Durga should be worshiped with complete method and legislation. She should be adorned with red flowers and should be used to worship the mother. After performing puja, offer sweet or kheer, or any other sweet dish to the mother. On this day Virgo worship is also of great importance. It is also believed that performing havan at home on this day is also very auspicious.
After performing pooja, chant these mantras or hymns for 108 times.
"Om Mahagaurya Namah"'
"Om Nav nidhi Gauri Maha davaye Namah."
Before chanting a mantra take a resolution first.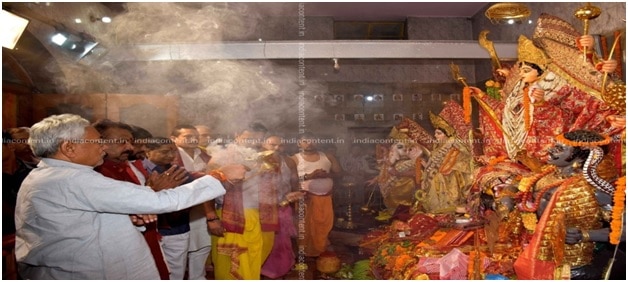 Durga Ashtami Wishes and Quotes
May the divine power of the goddess be with you on Ashtami and always. Wish you a very Happy Durga Ashtami 2019!
Happy Durga Ashtami to all: On this beautiful occasion. May happiness, health and wealth be yours, sending you "sharodiya Preeti and shubhechha"!
May Goddess Kali shower all her love and blessings on you and your family. Happy Durga Ashtami 2019.
Sharad Shubhecha, from our home to your life. Have a wonderful and blessed Durga Ashtami 2019!
May maa Durga shower her the choicest blessings on you today and forever. Happy Maha Durga Ashtami 2019!
On nine evenings of worship and prayer..
May Maa Durga always keep you in her arms.
May all your problems vanish completely.
We pray Ma Durga for your health and wealth.
Wishing you great health, immense happiness, prosperity, success and much more… Have a wonderful Durga Ashtami 2019 to you and your loved ones!
Maha Ashtami Images on India Content
If you are looking for Maha Ashtami pics then you must check the India Content website. You will find some good images on the website. The pictures are available in three sizes-small, medium and large.
You can purchase various other content images from the
https://www.indiacontent.in