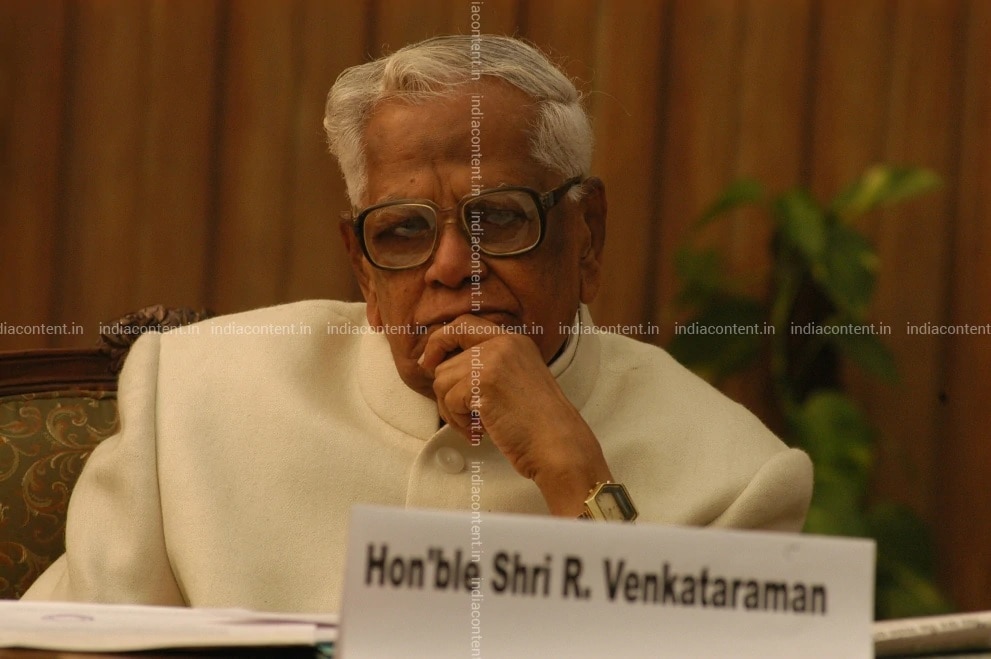 The President of India, Shri Ram Nath Kovind, paid tribute to Shri R. Venkataraman, former President of India, on his 109th  birth anniversary at Rashtrapati Bhavan on December 4, 2019. 
R Venkataraman Biography
R.Venkataraman was the eighth President of India. He was also a lawyer, an independence activist and one of the most admired diplomats in India.
Venkataraman was born on 4 December 1910 in Rajamadam village in Tanjore district, Madras Presidency in an Iyer family. He studied at Govt Boys Higher Secondary School in Pattukottai, graduated from National College, Tiruchirappalli and obtained his master's degree in Economics from Loyola College, Madras. Afterwards, he studied law from the Law College, Madras. He was then enrolled in the Madras High Court in 1935 and in the Supreme Court in 1951.
Venkataraman was young when he took part in the Quit India Movement. He was an integral part of the parliamentary team that re-designed India's Provincial Parliament between 1950 and 1952.
Venkataraman was appointed as the member of the Constituent Assembly and the provisional cabinet. Besides, he was elected to the Lok Sabha four times and served as Union Finance Minister from 1980 to 1982, and as Defence Minister from 1982 to 1984.
Venkataraman was elected as the seventh Vice President of India from 1984 to 1987.
He served as the President of India from 1987 to 1992, and also served as a State Minister under K. Kamaraj and M. Bhaktavatsalam.
Venkataraman was also a member of the Parliamentary delegation to the Commonwealth Parliamentary Conference in New Zealand in his legislative years.
He was appointed by the then Prime Minister, Indira Gandhi as a Member of the Union Planning Commission in 1967 to supervise matters of industry, labour, power, transport, communications and railways. 
He also started India's first missile programme—Integrated Guided Missile Development Program and appointed Dr A.P.J. Abdul Kalam as the programme head.
R Venkataraman Life's Achievements
R. Venkataraman received many honours from different parts of the world. He was conferred with Tamra Patra for his contributions towards India's freedom struggle. Besides, the Russian government conferred the Soviet Land Prize on him for writing the travelogue on former Tamil Nadu Prime Minister, Kumaraswami Kamaraj's visit to Russia.
Venkataraman received the Doctorate of Law (Honoris Causa) from University of Madras, the Doctorate of Law (Honoris Causa) from Nagarjuna University. He was Honorary Fellow, Madras Medical College; Doctor of Social Sciences, University of Roorkee; Doctor of Law (Honoris Causa) from University of Burdwan.
In addition, he was the recipient of a Souvenir from the Secretary-General of the United Nations for distinguished service as President of the U.N. Administrative Tribunal. And, he was also awarded the title of "Sat Seva Ratna" by the Sankaracharya of Kancheepuram.
R. Venkataraman wrote several books such as Role of Planning in Industrial Development, The Role of a Private Member of Parliament, My Presidential Years, Relevance of Gandhi: And Other Essays, and many more.
There are many books which have been written on Venkataraman such as President R. Venkataraman, by Nand Gopal Chaudhry, The Great Humanist Ramaswami Venkataraman, by Attar Chand, May India be Great: Selected Speeches and Writings of President R. Venkataraman, by Ramaswami Venkataraman, Selected Speeches, 1984–87, 10 September 1984 – 14 May 1987: 10 September 1984 – 14 May 1987, by Ramaswami Venkataraman. President R. Venkataraman Selected Speeches: July 1987 – December 1989, by Ramaswami Venkataraman, and many more.
R Venkataraman Images on India Content 
The India Content website has a good stock of images of former President of India Ramaswamy Venkataraman. You will find several images of the former PM from various meetings and events. Also, check out his photos with many political leaders.
You can purchase various other content images from the
https://www.indiacontent.in