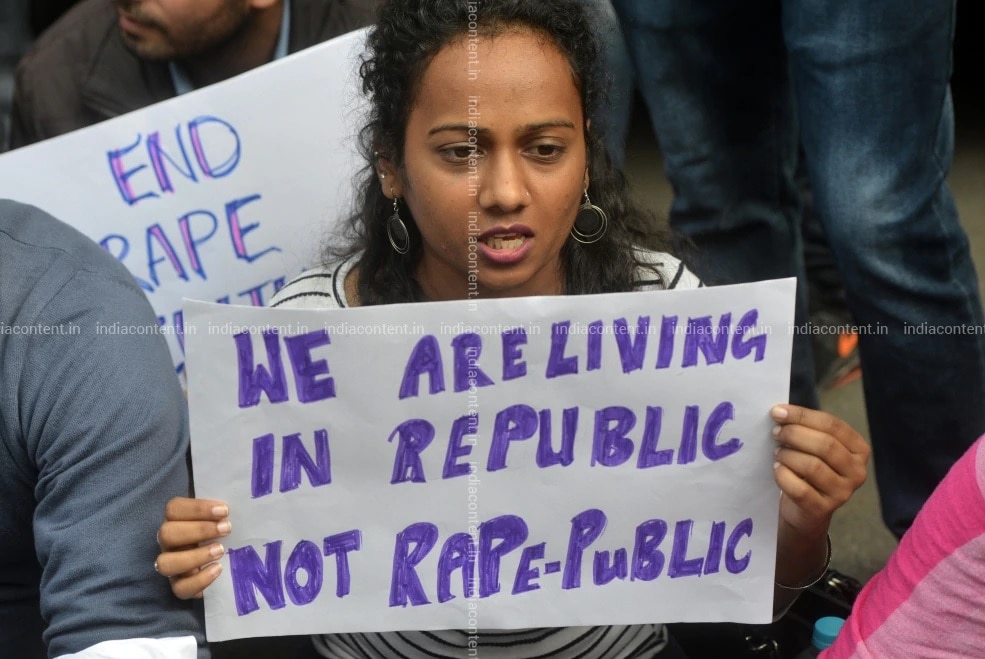 Outrage is escalating in India after the alleged rape and murder of a 27-year-old vet on the outskirts of Hyderabad. Thousands protested outside a police station in the city, demanding justice. Police have suspended three officers.
Four men raped a 27-year-old woman before strangling and setting her on fire on the night of November 27. They planned the ghastly crime when they saw her park her scooter near a toll booth. The victim called her younger sister to say she was stranded and scared, as well. She also told her sister that a group of men had offered to fix her scooter.
According to the remand report based on the statements of the four accused, the men punctured one tyre of her scooter. The men, identified as Mohammad Areef, Naveen, Chintakunta Chennakesavulu and Jollu Shiva, who worked as truck drivers and assistants, were drunk before attacking the woman.
As per the police report, when she returned around 9:15 pm, the men approached the woman, pretending to help her. They saw her speaking on the phone. After that, they forced her into a bush and switched off her phone. As the woman kept screaming for help, the men forced liquor down into her mouth to quiet her screams.
The four men then raped her till she fell unconscious and started bleeding. When she started coming back to her senses, the men stifled her to death. Then they wrapped the body in a blanket, loaded it onto the truck and carried it 27 km away. They placed it under a bridge and set it on fire with petrol around 2:30 am.
The gruesome incident has led to massive protest in Telangana and several other parts of the country. Locals even threw slipper at police personnel near Shadnagar Police Station in Telangana, about 50km (31 miles) from Hyderabad, following which the police had to resort to lathi-charge to maintain law and order as protestors demanded that all the four accused be handed over to them.
Growing rape cases in India
The rape and murder of 27-year-old in Hyderabad sparked fresh outrage in a country that has been in the international spotlight over the handling of sexual assaults by the authorities since the brutal gang rape and murder of Delhi's braveheart –the girl named Nirbhaya—the fearless one— on a bus in 2012. The wounds had not healed and the country is again grappling with growing numbers of rape cases.
Here's a list of some gruesome rape cases that have already been recorded in the first half of 2019. 
A 16-year-old girl was gang-raped for in Andhra Pradesh.
A 19-year-old girl from Bihar was allegedly gang-raped by 6 men in front of her father.
A 12-year-old Dalit girl was allegedly raped and then beheaded by her brothers and uncle in Madhya Pradesh.
A 4-year-old girl was raped in Aligarh after the accused lured her with ₹10 note and took her to a secluded spot.
An 11-year-old girl was raped and murdered in Unnao.
A 3-year-old girl was allegedly raped by her 11-year-old neighbour in Dehradun.
A 13-year-old girl was raped by 2 men at her home in Shahjahanpur.
3 sex workers were allegedly raped by 9 men at a farmhouse in Noida.
A 9-month-old girl was raped in Telangana after the man took her to a secluded place.
A minor girl was raped inside her residence in Kolkata.
A 43-year-old mentally challenged woman in Mumbai was raped by a social worker.
A 4-year-old girl was raped in a private school in Punjab.
A 17-year-old deaf and dumb girl was allegedly raped by 3 men in Rampur who also filmed the act.
A 15-year-old girl was raped by her father in Odisha.
An air hostess was allegedly raped by her colleague.
A 3-year-old girl was raped in Bandipora, J&K during the holy month of Ramzan.
A UP woman was repeatedly raped for days after she was sold off by her father.
A 16-year-old girl was kidnapped, confined and raped by 3 men in Noida for around two months.
A woman was raped, beaten, videotaped and blackmailed in Alwar when she went out with her husband for shopping.
A 9-year-old girl was raped and killed in \Mumbai.
A married woman was gang-raped by 3 men in Bikaner. 
A 6-year-old girl was raped and murdered by a drunk teenager in Hyderabad.
A 16-year-old girl was raped at gunpoint in Shamli district of Uttar Pradesh.
A 7-year-old girl was raped and murdered in Kannauj after being abducted from a temple.
A 13-year-old girl was raped by her father in Gurugram after he had a fight with his wife.
A woman was repeatedly gang-raped at a farmhouse in Ludhiana after she and her husband were abducted, looted and beaten up.
A 5-year-old girl was raped and murdered in Mumbai after being abducted while sleeping with her family in a pavement shack.
An engineering student was allegedly raped and murdered in Raichur.
A 4-year-old girl was raped and murdered after being kidnapped from a slum in Indore.
A 5-year-old girl was raped & murdered by her neighbour.
Every time such incident happens, some mass protests, candlelight marches take place and boisterous anchors scream their lungs out in studios but no one could answer why the Indian society demeans women. Even after thousands of years, the woman in India remains a stringent puppet.
Why do we forget that she is a daughter, a wife, a sister and most importantly, a mother, who gave birth to both men and women? She is not a plaything, she is a human too who deserves equal respect.
Someone must pick up the baton and make her feel safe. Unless that happens, we can only wait for the next incident to hit the headlines, triggering another round of breaking news.
Once again, it will be a new name, new address, and a new night.
Rape and Gang rape protest Images on India Content
The India Content website has a huge stock of images related to protest against rapes and gang rapes in the country. The pictures are available in three sizes – small, medium and large.
You can purchase various other content images from the
https://www.indiacontent.in