Almost seven months after becoming the working president of Bharatiya Janata Party (BJP), J.P. (Jagat Prakash) Nadda officially took over the reins of the BJP from Amit Shah on Monday 20 January 2020 and has been elected unopposed as the party' national president since he was the only candidate.
Top BJP leaders, including Union ministers and those from states, were present at the party's headquarter to file nominations in support of Nadda.
The 59-year old BJP leader's name was recommended by BJP parliamentary board members Amit Shah, Rajnath Singh and Nitin Gadkari.
Nadda was the first choice of Prime Minister Narendra Modi and Home Minister Amit Shah for the job. Senior BJP leader Radha Mohan Singh, who was in charge of the organisational election process, made the big announcement at the party headquarters in Delhi.
The appointment of a new president also brought to end former BJP president Amit Shah's tenure of over five and a half years during which the party expanded its footprints across India like never before and emerged victorious in many electoral contests despite suffering a few setbacks in state polls.
According to the BJP's constitution, its national president can be elected after at least half of the total state units have completed their organisational election exercise.
Responsibilities of National BJP President 
The BJP National President is the highest authority within the party, and his responsibilities include chairing meetings of the National Executive of the party and appointing the presidents of party subsidiaries, such as Youth Wing and Farmer's Wing.
Any candidate to file the nomination for the post of National President needs to have been a member of the party for at least 15 years.
The President is technically elected by an electoral college composed of members from the party's National and State councils, but in practice is a consensus choice of senior party members.
The term of the National President of the party is three years, and individuals may not serve more than two consecutive terms. The President usually does not hold a position within a government, and party chiefs have to resign from the position to assume any post in Cabinet.
J.P. Nadda's Biography
Jagat Prakash Nadda was born on 2 December 1960 to Narain Lall Nadda and Krishna Nadda in Patna, Bihar. He was the Bharatiya Janata Party's working president from June 2019 to January 2020 and currently serving as its National President.
Nadda studied at St. Xavier's School, Patna and then completed his graduation from Patna College, Patna University. He also did L.L.B. from Himachal Pradesh University, Shimla. As a child, Nadda represented Bihar in the All India Junior Swimming Championship held at the National Capital.
JP Nadda married Mallika Nadda on 11 December 1991, with whom he has two sons.
J.P. Nadda's Political Career 
Nadda is the former Union Minister of Health and Family Welfare and member of Rajya Sabha (Indian Parliament's Upper Chamber) from Himachal Pradesh. He also served as the Parliamentary Board Secretary of BJP. Previously, he was a Minister in the Government of Himachal Pradesh, as well.
He was first elected to the Himachal Pradesh Legislative Assembly in the 1993 election and re-elected in 1998.
During his first term, Nadda served as the Leader of his party group in the Himachal Pradesh Legislative Assembly from 1994 to 1998.
Nadda was elected for another term in the 2007 election. When Prem Kumar Dhumal, the BJP's Chief Ministerial candidate for the 2017 Himachal Assembly Election, formed a government, he made Nadda a part of his cabinet where he was responsible for Forest, Environment, Science and Technology, from 2008 to 2010.
In 2014, Prime Minister Narendra Modi made Nadda the Minister of Health during a cabinet reshuffle.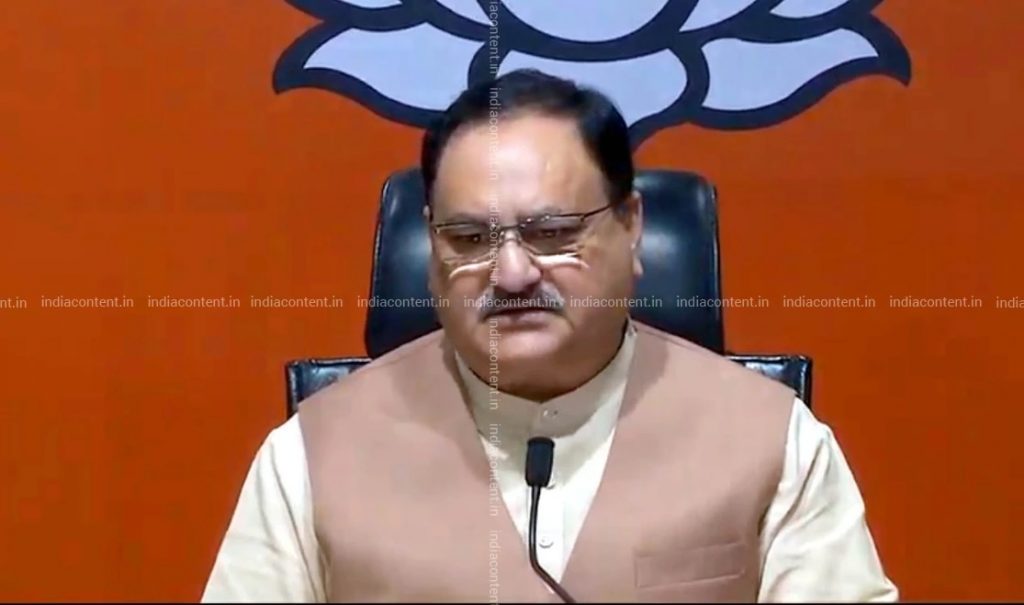 J.P. Nadda Images on India Content 
The India Content website has a good stock of images of New BJP National President J.P. Nadda. The high -quality pictures on the website are available in three sizes-small, medium and large.
You can purchase various other content images from the
https://www.indiacontent.in