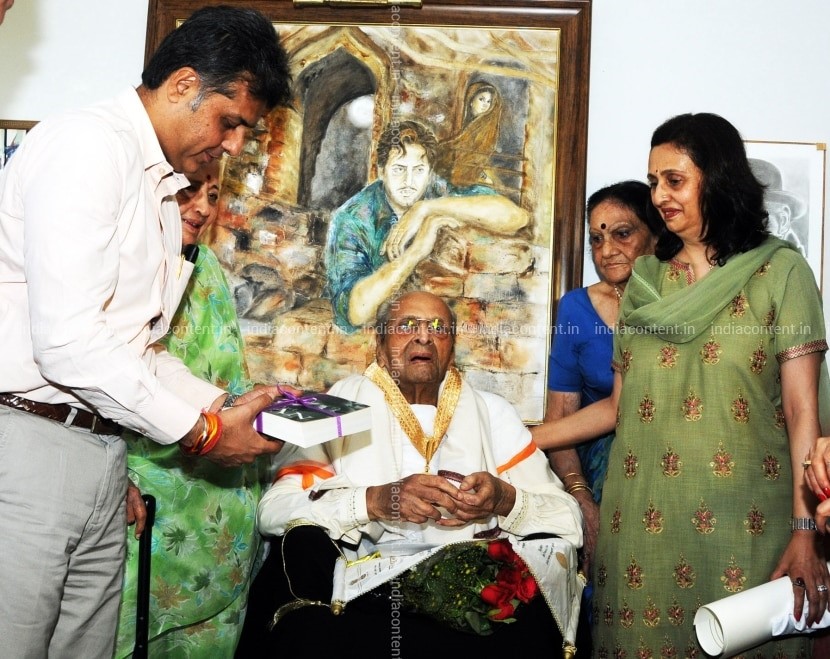 Pran Biography
Recognised as the eponymous 'Black Sheep' of Hindi cinematics, Pran is being recalled on his 100th birthday. Pran is one of the most noteworthy, fabled and veteran character actors of Indian cinema who has given almost 50 years of his life to Bollywood. During the cinematic journey of his life, he performed as a hero between 1940 and 1947, as a villain from 1942-1991 and acted in supporting and character roles from 1948 to 2007. He has also been a Film Producer in Bollywood films.
The leading celebrity, Pran Krishan Sikand was born on 12th February 1920 at Lakhsmi Chowk in Lahore, British India presently known as Pakistan and lost his life due to a perpetuating illness in the old age of 93 at Lilavati Hospital, Mumbai. He belonged to a wealthy Indian Punjabi family and was born to father Kewal Krishan Sikand who was a civil engineer and a government civil contractor. His mother's name was Rameshwari. He was one amongst the seven siblings of his parents – four brothers and three sisters. Due to his father's postings at several places, Pran went to Dehradun, Kapurthala, Meerut and Unnao (Uttar Pradesh) for his schooling and subsequently finished his matriculation from Hamid School in Rampur (U.P.). Later, he started working with A. Das & Co., Delhi as a novice to turn into a professional photographer. He also enacted the role of Sita in a local play of Ramlila in Shimla.
In 1945, Pran tied the knot with Shukla Ahluwalia and the couple was blessed with two sons, Arvind and Sunil Sikand and one daughter, Pinky Sikand.
Pran made his onscreen performance in nearly 350 movies in his copious career. His powerful performance as a villain never led any other actor in his place. He has always been the primary choice of filmmakers and directors. His character was so petrifying that people had even stopped naming the lives of their children.
This four-letter name had knocked out the Indian cinematics with his thrilling and negative appearances. He has been privileged several times for his antihero portrayals. He had received Lifetime Achievements Award for his vast contributions to Indian cinema which encompasses, Filmfare, Star Screen Awards and Zee Cine Awards. The Indian government bestowed him with India's third highest civilian award Padma Bhushan in 2001 and the most prestigious award of Indian cinema Dadasaheb Phalke Award at the 60th National Film Awards in the year 2013. Various dignitaries felicitated him on this occasion and a veteran actor Amitabh Bachchan gave him a title of 'a large pillar of the Indian Film Industry' on the social media platform, Twitter. He has also been conferred with three Bengal Film Journalists Association Awards for Best Actor in a Supporting Role for Jis Desh Mein Ganga Behti Hai in 1961, Shaheed in 1966 and Zanjeer in 1973. The list of his laurels and recognitions is very long as he is the most prestigious and esteemed thespian in Indian Cinematography.
Pran Top Hits
Pran started his film acting career in 1940 with Dalsukh M. Pancholi's Punjabi movie Yamla Jat in the role of a villain after having a casual meeting with writer Wali Mohammad Wali at a shop in Lahore. In the same year, he worked in small roles in Chaudhary & Khajanchi. Pran made his first on-screen appearance in Hindi-language movie opposite to Noor Jehan in Khandaan directed by Pancholi in 1942. Both of them had earlier worked together in Yamla Jat as a child artist.
Pran returned to Mumbai after the India-Pakistan division in 1947 and restarted his career. He got a big break in the Shaheed Lateef directorial in Bombay Talkies Ziddi with Dev Anand and Kamini Kaushal. Director Gidwani had featured him in other films like Kaise Kahonn in 1945 and Khamosh Nigahen in 1946 before the Indo-Pak partition. Ram Aur Shyam has been his best movie in a negative role. Though people at times did not like him for his negative acts and used to be scared of him and hate him, yet loved him as kind and memorable chacha in the movie 'Upkar'.
He has been one of the most preferred and highly paid actors of his era who had worked in the biggest blockbusters of all time. He starred along with several thespians of various decades like Raj Kapoor, Dilip Kumar, Dev Anand, Rajendra Kumar, Amitabh Bachchan, Rajesh Khanna, Sanjay Dutt, Sunny Deol, Salman Khan and many more. He has given various successful films in his Bollywood journey which encompasses his trademark blowing of smoke rings in Bari Behan in 1949, negative character in Azaad in 1955, Devdas in 1955, Madhumati in 1958, Dil Diya Dard Liya in 1966, Ram Aur Shyam in 1967 and Aadmi in 1968.
He was also appreciated for his movies with Dev Anand as a lead man like Ziddi in 1948, Munimji in 1955, Amar Deep in 1958, Jab Pyaar Kisi Se Hota Hai in 1961 and with Raj Kapoor in Chori Chori in 1956, Aah in 1953, Jaagte Raho in 1956, Chhalia in 1960, Jis Desh Mein Ganga Behti Hai in 1960 and Dil Hi Toh Hai in 1963. IF we talk about his whole journey, there is a lot about the veteran actor.
As a sports admirer, he had always supported his own football team by funding for a number of years. Further, he aided several needy people and formulated charity events in order to raise funds. He had been the social activist and was engaged in several social activities such as Maratha Sikshan Sanatha, the Chief Minister's Relief Fund and Film Industry Welfare Trust.
This legendary actor will always stay alive in our hearts! Happy Birthday, Pran!
Pran Images on India Content
The India Content website has a good stock of high-definition images related to Pran. The pictures are available in three sizes – small, medium and large.
You can purchase various other content images from the
https://www.indiacontent.in