The acclaimed British cricket commentator and former cricketer Nasser Hussain OBE celebrated his 52nd birthday on 28 March this year. Nasser was England cricket team's captain from 1999 and 2003. He started his international career in 1990 and retired in 2004.
Nasser is an aggressive right-handed batsman and he has scored more than 30,000 runs, including 62 centuries from over 650 first-class and List-A cricket matches. Wisden Cricketers' Almanack, the cricket reference book described him as "touched by genius" after he scored his highest Test score of 207 against Australia in the first Test of the 1997 Ashes at Edgbaston.
Nasser Hussain Biography
Nasser was born on 28 March 1968 into a Shia Muslim family in Madras, India. His father, Raza Jawad 'Joe' Hussain, a Tamil-speaking Indian Muslim was an avid cricketer and field hockey player. He was the descendant of Muhammad Ali Khan Wallajah, the Nawab of Arcot State in the second half of the 18th century. Nasser's mother Shireen is of an English descent whose original name was Patricia Price.
Nasser's early experiences of cricket were during his family visit to Chepauk during his childhood. His elder brothers Mehriyar 'Mel' Hussain and Abbas used to bat on the outfield while he was a ball keeper. His family moved to Ilford, England in 1975 in need of Nasser and his brothers' English education. He attended the Forest School in Walthamstow. He also held charge of an indoor cricket school in his neighbourhood where he used to bowl for hours along with his elder brothers. At the age of 8, Nasser started showing his talent as a leg-spin bowler and was selected in the Essex Under-11s. At the age of 12, he got into Essex Under-15s, where he was the youngest player.
Nasser Hussain Top Innings
Nasser's ODI debut was on Oct 30, 1989, in MRF World Series' (Nehru Cup) in Nagpur. The match between England and Pakistan was the first semi-final in the Series' and he scored 2 runs from 12 balls with a strike rate of 16.66. Nasser's highest score in the ODI is 115 runs against India at Lord's Stadium, his team's home ground, on 13 Jul 2002. BBC correspondent Jonathan Agnew described the game as the most exciting ODI he ever has seen. His other top score is 95 runs in the ODI match against Bangladesh at Gymkhana Club Ground, Nairobi in 5th Oct 2000, 93 runs against Australia in Sydney on 17 January 1999, 88 runs against Kenya in Canterbury on 18 May 1999, 85 runs against South Africa in Bloemfontein on 23 January 2000, 75 runs in the ODI against Zimbabwe at Colombo on 18 September 2002 and 73 runs in the ODI against Zimbabwe at Harare on 3rd October 2001.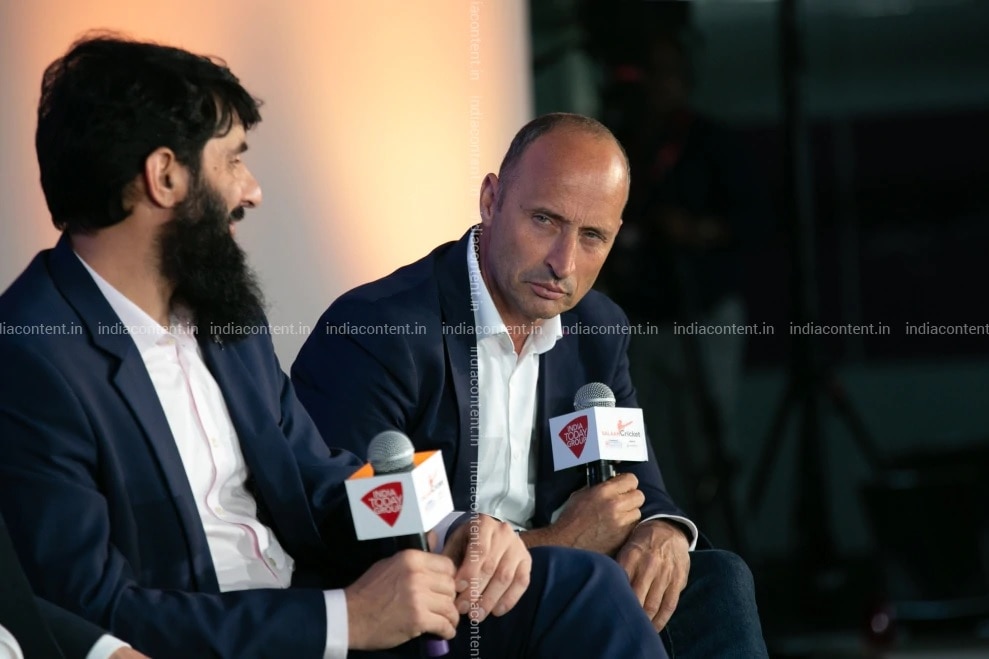 Nasser has scored a total of 2332 runs from the 88 matches in his ODI career spanning from 1989 to 2003, with an average run rate of 30.28 and strike rate of 66.99. Nasser's highest score in a test match is 207 runs which were against Australia at Birmingham on 5 June 1997. From the 96 matches he played in his tests career spanning from 1990 to 2004, he scored 5764 runs with an average run rate of 37.18 and strike rate of 40.38. He played in 334 First-Class matches from which he scored a total of 20,698 runs with a batting average of 42.06 and from the 364 List – A matches he played he scored a total of 10,732 runs with a batting average of 30.28.
Nasser Hussain Achievements and Awards
In 2002, Nasser was awarded an 'Officer of The Order of British Empire' in the Queen's New Year honour for his role in the revival of England's cricket fortunes. Nasser was conferred with the 'Lifetime Achievement Award' at the inaugural Asian Cricket Awards held at Lord's in October 2014. In 2019, he received British Sports Journalism Awards' Silver Award for 'Sports Commentator' and Silver Award for 'Sports Pundit'. Nasser Hussain is nominated at RTS Programme Awards 2020 for 'Sports Presenter, Commentator or Pundit' for presenting the programme The Ashes on Sky Sports for Sky Sports Cricket.
Nasser Hussain Personal Life
Nasser married Karen Hussain in 1993 and they have a son Joel. Nasser served as a coach at New Hall School in Essex since 2010. In 2011, he appeared as himself in the role of a selector in Nikkhil Advani's Bollywood sports drama film Patiala House starring Rishi Kapoor, Dimple Kapadia, Akshay Kumar and Anushka Sharma in the lead roles.
All that Nasser Hussain desired was to be prepared to forgo his natural style of opening the face of the bat, running the ball to the third man and winning on a test level. The achievements he made in his career as a result of his willpower over his drawbacks including dominant bottom hand and unorthodox leg and head positions.
Nasser Hussain Images on India Content Website
The India Content website has a good stock of Nasser Hussain images. The high-definition images on the website are available in three sizes – small, medium and large.
You can purchase various other content images from the
https://www.indiacontent.in