All Delhi MLAs along with teachers, student, doctors and safai karamcharis were invited at the colourful oath ceremony.
AAP Win Delhi Election 2020
An overwhelming majority of AAP in Delhi Polls has set a benchmark by triumphing 62 seats out of 70 seats and brushing off BJP with only 8 seats and Congress with blank. It slammed BJP's desires to formulate the government in Delhi by addressing the rallies with intrusiveness.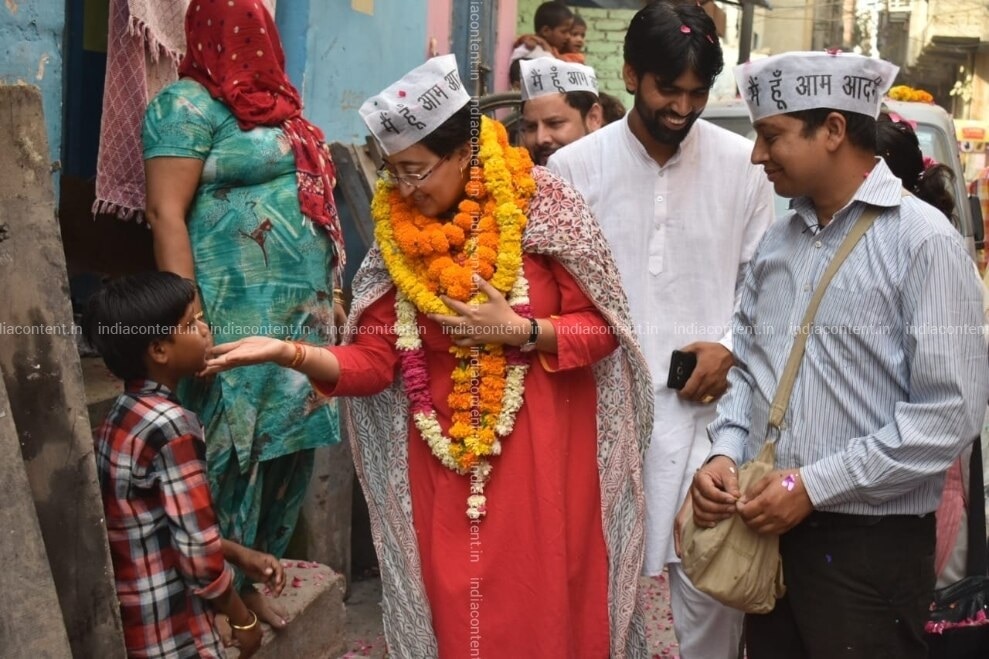 The political reputation of Kejriwal was lifted up after the ravishing victory of Aam Aadmi Party. The largest victory margins of nearly 88,000 polls were recorded by AAP's Sanjeev Jha from Burari whereas AAP's Amanatullah triumphed with the margin of 71,000 in Okhla and were commemorating largely in Shaheen Bagh.
The results of Delhi Assembly Elections 2020 came on 11th February. The counting for the voting outcomes in 70 assembly seats began among invulnerable security arrangements on Tuesday at 8 am in Delhi. Election Commission of India had set up 21 vote counting centres in 70 Assembly constituencies in Delhi. The Election Commission website live-streamed the counting of votes in the Delhi Election Result 2020.
In comparison to its 2015 tally, AAP was five seats short when it had scored 67 seats but BJP has gained five more seats than the previous election. The Congress observed a further splash in its vote percentage.
AAP's victory is an outcome of the scrim of a booming campaign which sank BJP's aspirations to formulate the government in Delhi nearly after two decades. AAP secured 53.57 per cent polls as to 54.34 per cent in 2015 while the BJP enhanced its count to 38.51 per cent polls. Despite having played hardball campaigns by BJP with Home Minister Amit Shah, Prime Minister Narendra Modi, UP CM Yogi Adityanath and Bihar CM Nitish Kumar, it was unable to solicit the votes. BJP counted on its Hindu Nationalist oratory and castigating demonstration against Citizenship Amendment Act in Shaheen Bagh. 
After the assembly elections in the capital, the two leaders—Delhi Chief Minister Arvind Kejriwal and Union Home Minister Amit Shah had the first meeting at the Union Home Minister's residence in Delhi. 
Arvind Kejriwal CM Oath: Date and Timings
An Indian politician and erstwhile bureaucrat, Arvind Kejriwal took oath for the third consecutive term as the Delhi Chief Minister on the slated date 16th February 2020 Sunday at 10 am. Delhi's Ramlila Maidan was embellished to welcome the would-be AAP CM and his previous six Delhi Cabinet colleagues who managed to retain their position this time. His six collaborators sworn-in along with Arvind Kejriwal. The six designated Cabinet includes Manish Sisodia, Satyender Jain, Gopal Rai, Kailash Gehlot, Imran Hussain and Rajendra Pal Gautam. Manish Sisodia as Delhi Deputy Chief Minister, Gopal Rai as Labour Minister, Satyender Jain as Health Minister and others were administered vows by L-G Anil Baijal. All Delhi MLAs along with teachers, doctors, students and safai karamcharis were invited at the venue to bless them.
Aam Aadmi Party national convenor paid his gratitude to Delhi mass by putting on the big posters saying 'Thank You'.
There was heavy and tight security at Ramlila Maidan for the Delhi CM Kejriwal's colourful oath ceremony. The swearing-in ceremony was open for the public and the followers. Kejriwal invited ministers-designate for dinner after the oath ceremony and debated development roadmap.
While addressing the crowd of his followers at Ramlila Maidan, Arvind Kejriwal shared a unity message by singing a song 'Hum Honge Kamyaab' and it was returned back by the crowd in the same pitch. Builders of Delhi (Delhi Ke Nirmata) which comprises a list of safai karamcharis, students, teachers, doctors and bus marshals were applauded by him. He expressed his desire to work with the Centre with a vision to have smooth governance in the city and seeking its support to make Delhi a Number #1 city in the world. He shouldered the responsibility of two crore people of Delhi and declared them as a part of their family irrespective of their financial status, religion, caste or party. He said that he has no offences for those who polled for BJP or Congress, he is the CM of all parties, be it BJP, Congress or any other party. He showed his utter faith in everyone.
Kejriwa also showed his interest in working together with Modi, Centre and other political parties for the progress of Delhi. A new version of politics is born in Delhi which encompasses schools, hospitals, water, electricity, good roads and women security, he said.
His campaign slogan 'Acche Beete Paanch Saal' did wonder for him.
AAP Delhi Election Result 2020 Images on India Content
The India Content website has a huge stock of high-quality images related to AAP Delhi Election Result 2020. The pictures are available in three sizes – small, medium and large.
You can purchase various other content images from the
https://www.indiacontent.in