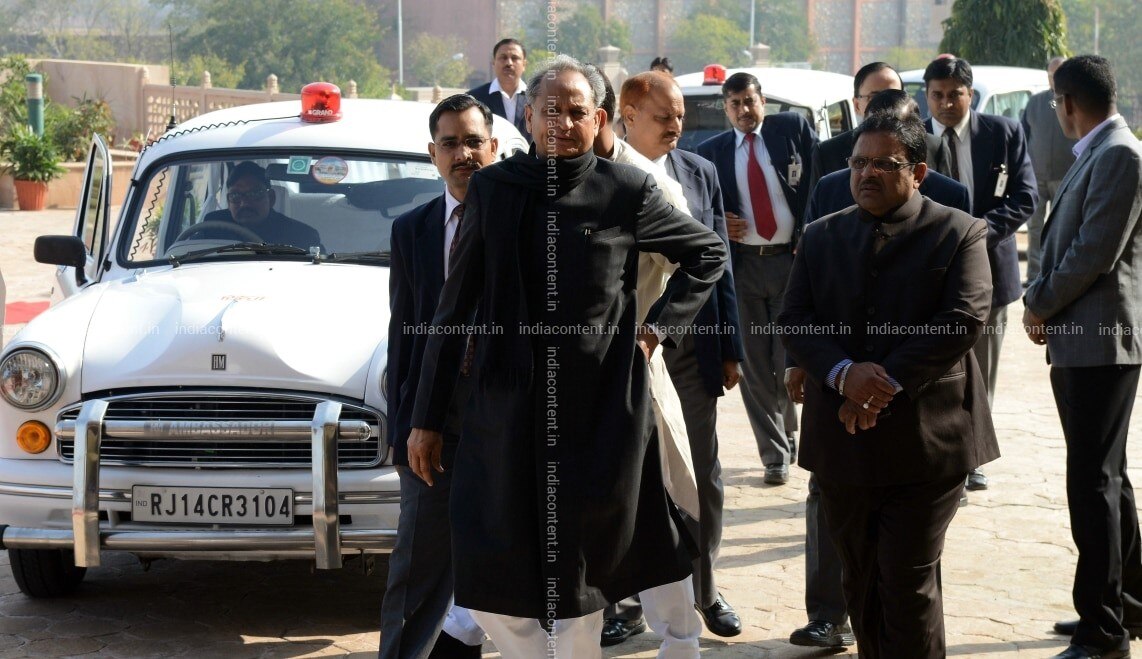 Education, Healthcare, Farmers' Welfare, Job Creation Focus Area for the Rajasthan CM
Recently, Rajasthan Chief Minister Ashok Gehlot presented the state budget for 2020-21 in the legislative assembly. The Rajasthan CM also holds the finance portfolio and did not impose new taxes in the budget. He announced concession in stamp duty on lease executed by state government and local authorities, full exemption from stamp duty and concession in registration fees on transfer of sick micro and small enterprises, amnesty schemes to give 100 per cent waiver of interest and penalty payable on stamp duty, existing DLC rates to be reduced by ten per cent to facilitate industries, as mentioned in the media reports.
Rajasthan Budget 2020 Overview
The Rajsthan CM made seven resolutions as priorities of this budget.
These resolutions are the welfare of women, healthy Rajasthan, wealthy farmers, welfare of children and elderly, skilful labourers, education, water, power and roads, skills and technology.
The Rajasthan CM also referred to the public welfare measures in the last budget and said that his government has tried to present a concrete action plan in this budget, as well.
No new tax proposal has been levied and the CM announced to fill 53,151 new vacancies. He also announced a rebate of Rs 130 crore in different kinds of taxes.
Rajasthan Budget 2020 Top Developments
22 monuments of Ajmer, Jodhpur, Bundi, Alwar, Bikaner, Barmer, Bharatpur, Churu, Dholpur, Jaisalmer, Sirohi and Udaipur will be revived. State Archives documents will be made online.
Rs 100 crore have been announced for the welfare of the women of Rajasthan.
Provision of more than Rs 14,000 crore has been made especially for health services.
A budget of Rs 30 crore have been approved for building a Townhall in Karuali and Jodhpur.
The government also proposed good auditorium for international level events in Jodhpur city.
Treating the injured person will be mandatory for hospitals. Failure to do the same will put the hospital in trouble and necessary action will be taken against it. If necessary, legal provisions will also be made.
Top priority is being given to drinking water by the state government. The state government has a 50 per cent stake in the central government's Jal Jeevan Yojana. 90% of help has been sought from the Centre in this scheme.
53,151 posts to be filled in governmental institutions.
Rajasthan to get around Rs 10,000 crore less share of tax estimated by the Centre from Rs 46,411 crore to Rs 36,039 crore.
MSMEs to get 100 per cent exemption from stamp duty.
Dearness Allowance (DA) has been increased from 12 per cent to 17 per cent from July 1, 2019.
Employees to get arrears from July 2019 onwards.
Rs 75 crore allocated for promoting start-up ecosystem.
Education sector to get over Rs 39,524 crore.
1,683 new police vehicles will be purchased.
Parent-teacher meetings will be mandatory in all government schools.
Saturdays have been declared as "No Bag Day" in schools.
Rajasthan iStart programme will be extended to BITS Pilani, IIT-Jodhpur and MNIT.
Public Works Department to get Rs 6,220 crore allocation.
Tourism sector to get Rs 100 crore allocation for its promotion and further establishment of the tourism sector.
The budget proposes Rs 3 crore for gold medallists, Rs 2 crores for silver medallists in the Olympics.
Rs 7.2 crore have been allocated to establish minority women hostels.
Rs 100 crore have been allocated for Nehru Bal Sanrakshan.
Health sector to get Rs 14,437 crore in Rajasthan Budget.
Rs 3,420 crore have been announced for farmers. Rs 100 crore allocated for Nirog (healthy) Rajasthan.
For offline and online video lecture in the college, Rajiv Gandhi e-content library facility will be started soon.
25000 new solar pumps will be installed in the state. Jaisalmer, Bikaner, Barmer, Jodhpur, Pali, Nagaur, Sirohi, Barmer, Ganganagar, Jalore, will get an irrigation system.
During the announcement of the budget 2020, Ashok Gehlot said, "I am presenting this budget, inspired by Mahatma Gandhi. The country's economy has derailed. The economy of the state depends on the policy and plans of the Center."
He added, "The health sector in Rajasthan will be further strengthened. Under this, PHC and CHC will be expanded. Around Rs 15,000 crores will be spent on the construction of new medical colleges, and the state government will have 40 per cent participation in it."
Rajasthan Budget Images on India Content 
The India Content website has a huge stock of high-quality images related to Rajasthan Budget Session. The images are available in three sizes – small, medium and large.
You can purchase various other content images from the
https://www.indiacontent.in